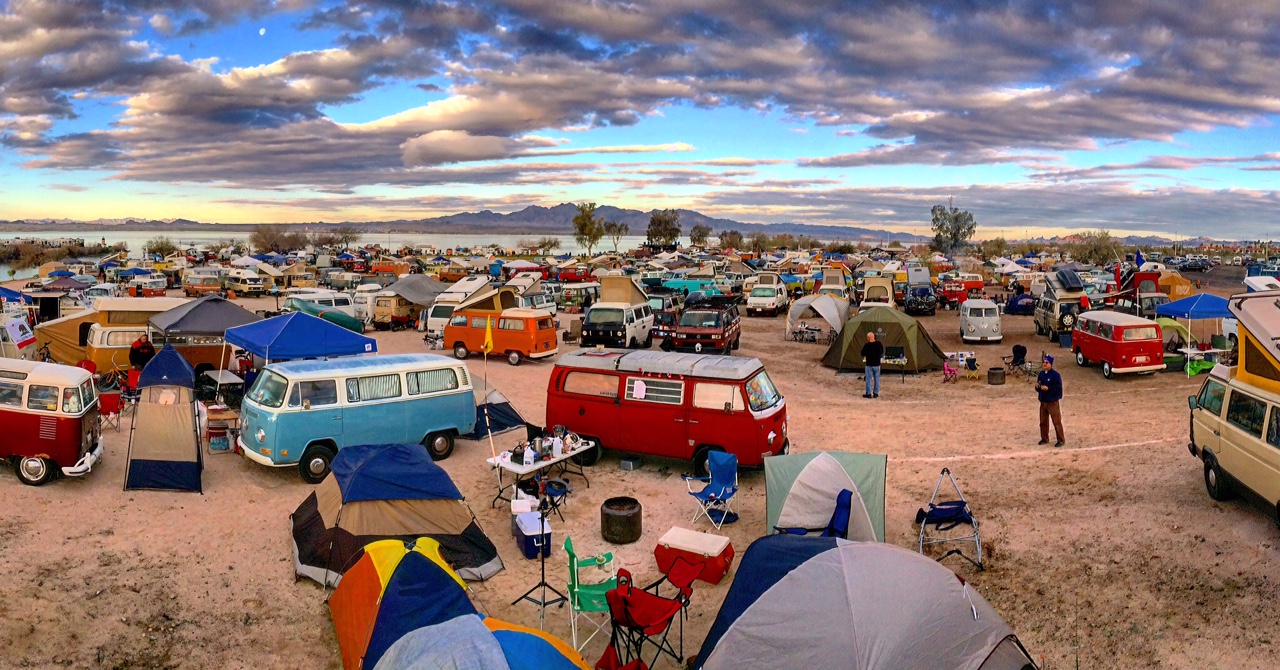 6 Days / 5 Nights / 627 miles / 1009 km
Buses by the Bridge (BBB) is one of the most popular VW gatherings in North America and is the largest in the United States. Every January the campout brings 600+ vintage VW buses from all over the US and Canada. In 2020 BBB will be celebrating its 24th event on the desert shores of Lake Havasu, a large reservoir fed by the Colorado River along the border of California and Arizona - home to the famous London Bridge.
We certainly hope that you can join us, for this is sure to be another one of our funtastic, memorable, and quirky treks across the Californian desert!
Here's a peek at our itinerary...
DAY 1 :: Costa Mesa to Joshua Tree National Park
On the morning of day one, our caravan will leave from VSW's headquarters for Joshua Tree National Park. This park is one of the few places in the world where you will find these iconic trees, also known as Yucca Brevifolia. After exploring this unique park, we will set up camp, enjoy a good ole fashioned BBQ, and unwind under a fabulous sunset that only the California desert can provide.
DAY 2 :: Joshua Tree National Park to Lake Havasu City (Buses by the Bridge) via Route 66
On day two, the group will motor towards BBB, but first we will take mystic Route 66 to Roy's Café, a local site well known as a relic backdrop for movies, music videos, and photo shoots. After taking time out to shamelessly pose for selfies we'll be back on the road - heading for Lake Havasu City. We'll be arriving close to sunset, right on time to set up camp and take in the live band!
DAY 3 & 4 :: Buses by the Bridge, Lake Havasu City
After having spent the night stargazing under the expansive Milky Way, pondering the vastness of the universe you'll wake up to a sea of Volkswagen buses. You'll spend the rest of the day nosing about the colorful buses and talking up their owners. And for those of you who never return home without a souvenir, there will be plenty of opportunities to purchase handmade goods from the vendors at the BBB event.
As this enchanted day draws to a close, those of you who crave adrenaline might consider taking a walk on the London Bridge (yes – this bridge actually came from London!).
DAY 5 :: Lake Havasu City to Pioneer Town
This day will wind us along the edges of gorgeous Parker Dam and then we'll drive a straight shot through the Mojave desert toward our afternoon destination at Le Haut Desert Aerie in Pioneer Town. Awaiting us will be our private campsite located on 40 acres, surrounded by 100's of acres of pristine wild lands, abundant hiking trails and long views from Mount Gorgonio to the Eastern Mojave. The property boasts a swimming hole, community kitchen, outdoor shower and restroom as well as options for breakfast meals. Le Haut Desert Aerie has it all!
Now let's not forget Pioneer Town, home to Pappy and Harriet's Pioneertown Palace! Who knows what talent will be lurking on the eve of Sunday, January 14th!
Stroll around Pioneertown, sit out in Pappy and Harriet's beer garden. play some pool or hang out and listen to music. Some of the shows are free, but either way, rest assured, there will be live music!
DAY 6
Monday, January 16th :: Pioneer Town to Costa Mesa
Just because this is the last day of our excursion, it doesn't mean the adventure is over. Feel free to hang out at Le Haut Desert Aerie, go for an early morning hike, or soak in the private swimming hole. There's always more exploring to do in the light of day... if you'd prefer to break away from the group and poke around Palm Springs or head back into Joshua Tree it's totally your call. Just be home in time for, well, not dinner, but maybe your flight home ;)
Yes, our final destination is our starting point in Costa Mesa. Undoubtedly the end of this epic journey will be the beginning of lifelong friendships - established through the unforgettable moments shared on this sublime safari.
WHEN: Your adventure embarks from Vintage Surfari Wagons in Costa Mesa, CA on the morning of Thursday, January 17th and will be returning from Pioneer Town end of day, Monday, January 21st.
COST:
• Single Occupancy: 1800 USD
• Double Occupancy: 1200 USD (per person)
• Extra Travelers (up to 2 per bus): $80 USD (per person per day)
• Tag-along Buses: $700 USD (+$80/day for each additional traveler)
• Kids 10 Years And Younger Travel Free
taxes not included
Deposit to hold your reservation: 50%
Balance to be paid 7 days prior to departure
WHAT'S INCLUDED: Provided in the cost is the 6 day classic VW Campmobile rental, propane space heater, down duvet, camp chairs, kitchen galley kit, cooler, firewood, all camp fees and park entrance fees at Joshua Tree, entrance fees to Buses by the Bridge event, fresh brewed coffee each morning. One nights stay at a Le Haute Desert Aerie adjacent Pioneer Town. And let's not forget - experienced VDub road guides... Vintage Bill and Happy Harrigan!
MEALTIMES/PROVISIONS: Each camper has it's own galley style kitchen complete with all the gear you'll need to cook and eat with. We'll make stops strategically along our route so that everyone can purchase personal provisions. Fresh brewed coffee will be served up with a smile each morning.
NEAREST AIRPORT: John Wayne International Airport (SNA) is only 15 minutes away from VSW headquarters in Costa Mesa! If you'd rather land at Los Angeles International Airport (LAX), you'll be about 50 minutes away (depending on traffic). There are several shuttle options from both airports, including Uber and Lyft. Please check with us and we can recommend the best option.
NEEDED: VW freaks n' fanciers like YOU!
CONTACT US: Speak to one of our guides first! Send us an email and we will schedule a phone call...
View Event →