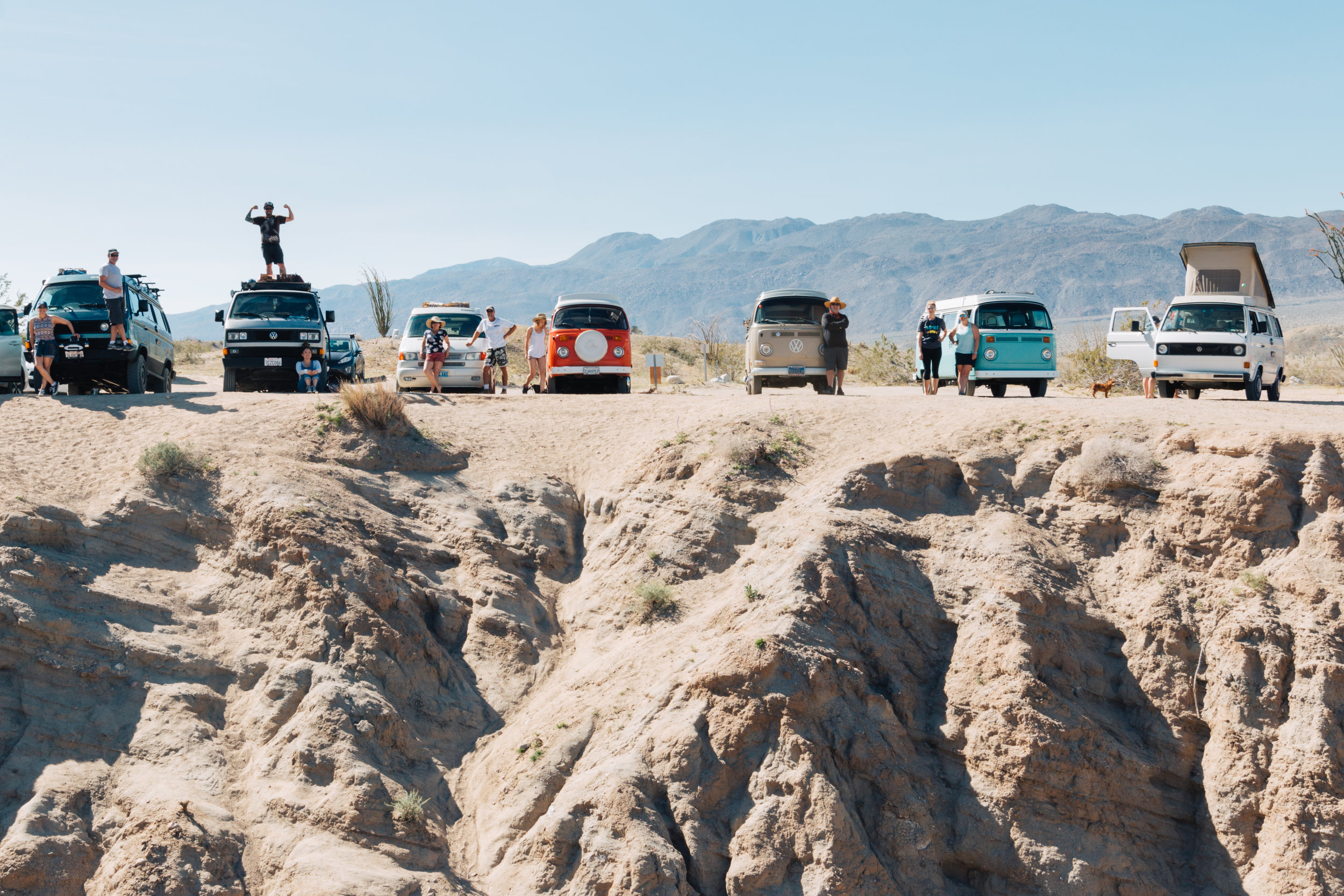 5 Days / 4 Nights / 452 miles / 727 km
We're gonna kick up some age-old dust as we trundle across the dry open vistas of the desert. Vintage Surfari Wagons' expedition guide Happy Harrigan will identify local flora and fauna as we reveal the arid land's most spectacular natural formations such as Slot Canyon in Anza Borrego and the third-largest palm oasis in California tucked away in a rocky V-shaped gorge.
Additional points of interest on this nostalgic VDub adventure and ready for your exploration are the metal sculptures of Ricardo Breceda at Galleta Meadows and Leonard Knight's Salvation Mountain - a brilliant "outsider art " masterpiece!
Professional photographer Eric Fallecker will accompany us on our journey, providing guests with in-the-field photographic instruction as we capture our own images as keepsakes. If we're lucky we may glimpse a bighorn sheep (Borrego) or two!
Bring your appetites and your thirst cause we're gonna be serving up some ding dang fancy camp vittles and libations.
DAY 1:: Julien [Apple Pie] [Sightseeing] [Craft Beef Flight], Great Overland Stage Route
DAY 2 & 3 :: Anza Borrego [Slot Canyon Hike] [Palm Canyon Trail] [Sculptures of Ricardo Breceda]
DAY 4 :: Salvation Mountain, Slab City [Sightseeing], Lake Cahuilla
DAY 5 :: Palms to Pines Highway, Costa Mesa
WHEN: Your adventure embarks from Vintage Surfari Wagons in Costa Mesa, CA on the morning of Thursday, April 4th and will be returning from Lake Hemit late afternoon, Monday, April 8th
COST:
• Single Occupancy: 1800 USD
• Double Occupancy: 1200 USD (per person)
• Extra Travelers (up to 2 per bus): $80 USD (per person per day)
• Tag-along Buses: $700 USD (+$80/day for each additional traveler)
• Kids 10 Years And Younger Travel Free
taxes not included
Deposit to hold your reservation: 50%
Balance to be paid 7 days before departure
WHAT'S INCLUDED: Provided in the cost is a 5 day rental of a classic VW Campmobile, bedding pack, down duvet, propane heater, camp chairs, kitchen galley kit, firewood, camp fees, 2 impressive evening meals, 2 robust breakfasts, campfire goodies, and a smattering of signature cocktails, all lovingly fabricated by our VSW crew. Oh and of course, your very own bus whisperer Vintage Bill. He'll be more than happy to answer any and all VDub queries, but most importantly he'll keep us all rolling on down the road.
MEALTIMES/PROVISIONS: A communal grill and camp kitchen will be available for all bus participants to use while we are on the road. We have discovered that our campers seem to prefer to pitch in, sharing meals and sometimes clean-up, making the group camp experience a rich one. We'll make stops strategically along our route so that everyone can purchase personal provisions.
NEAREST AIRPORT: John Wayne International Airport (SNA) is only 15 minutes away from VSW headquarters in Costa Mesa! If you'd rather land at Los Angeles International Airport (LAX), you'll be about 50 minutes away (depending on traffic). There are several shuttle options from both airports, including Uber and Lyft. Please check with us and we can recommend the best option.
NEEDED: VW freaks n' fanciers like YOU!
CONTACT US: Speak to one of our guides first! Send us an email and we will schedule a phone call...